All Classes Held in the Green Lake area, unless otherwise noted. 
Want ALL The Classes? Join the Pack! for only $115/month
Most Popular!
Running a 5K is a great goal – and one you can reach in just a month. You don't have to be a runner to join us. We'll start with more walking than running and gradually swap that around. Before you know it, you'll be running 5K! You'll have running buddies for commiseration (I mean camaraderie!) and a coach for technique coaching and motivation. The program also includes a training schedule, seminars, and fun!
Day class starts in April in Greenlake. Noon & P.M. Classes. So really…what are you waiting for? Early bird price is $165   Times, Details and Sign Up Here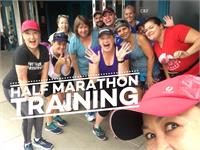 You already have nailed your half marathon or two and want to train for your next conquest, and have fun with a great group. Slow paced and gentle mile increases will get you to your goal! Start at 6 miles and get up to a half marathon in 9 weeks. Join others in a fun, accessible where we run in different locations while chatting and having fun! We are training for a Spring Half Marathon (Eyes on Vancouver or Snohomish Women's Run on 5.5.19). You get:
Saturday runs with support
High 5's and some butt-slaps
Schedule
E-mail access to your coach
A training shirt
Facebook group
RockIt Class, think track work out to get you stronger/faster and sweaty Class (Every Wednesday at 11 am and 6:30)
New and improved routes. Downtown, Alki, Ravenna Park, and Lake Washington
Social Night. (that might involve cocktails)
Laughing, fun, and more #buttslaps
Duration: 9 weeks
Classes: 9 classes (Saturdays)
Sign Up Here! 
Early bird savings: Today only 12/26 for $199
$220 after 12/26
Starts: March 2nd, 9:00 a.m.
Where: Starts at Sculpture Garden*.
*Seattle area. Routes/locations vary and rotate from month to month. Registration opens  12/26
Planks, push-ups, and lunges, OH MY! Not your hard-core boot camp, but we get the job done while having so much fun you'll forget this is exercise. Almost. Meet at the Greenlake, near the arch, by the community center. Join anytime!!
TIMES: 7:30 a.m.or 9:30 a.m. DAYS: T/W/TH